The Merry Widow of Tanner's Ford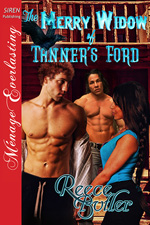 A Tanner's Ford Link Book
Marci Meshevski moves to Tanner's Ford, Montana, after losing everything, including her odious husband, in a fire. A few dozen orgasms with a hot cowboy is the prescription for erasing memories of lousy sex.
Simon MacDougal is desperate for a son, as without one ownership of the ranch reverts to cousins in Texas. When Simon gets a cast from toes to thigh the doc insists he have help at home, so he agrees to Marci moving in temporarily. She's just as eager for hot sex. His cast makes them be creative.
The sex is dynamite but it's Marci's sunny personality, ability with children, and enjoyment of the historic ranch that catches the hearts of Simon, then Lance.
But though she loves Simon's wicked ideas and Lance's calm power, she wasn't truthful about her husband's death. Terrified of jail, she won't drag the men she loves down with her. Can she trust them with the truth?
Note: There is no sexual relationship or touching for titillation between or among siblings.
This book is also available at
Amazon Kindle     Kobo    Barnes & Noble Nook