Tanner's Ford Ranches
North Side of the River
The Bitterroot Ranch (using the RB brand) is run by Ranger Elliott, his identical twin Ben, and younger brother, Patrick. Florence marries Ben in A Convenient Husband, Bride Train 4.
The Rocking E is one of the two original ranches, established in the late 1840s. Trace Elliott marries Beth and shares the ranch with his younger twin brothers, Simon and Jack in Barefoot Bride for Three, Bride Train 1.
The Circle C ranch is owned by a trio of battered veterans, Luke Frost, Gabe Downey, and Oscar (Oz) Cutler. Though terribly scarred from an infected bayonet wound, Luke convinces a woman to marry him in in Beauty and the Beasts, Bride Train 6.
The last ranch on the north is The Sweetwater, using the Flying X brand. It's owned by three Southern bachelors, Cole Taylor, Byron Ashcroft, and Marshall Stevens.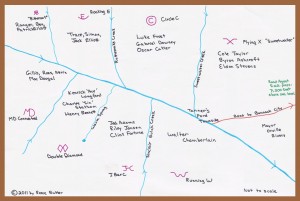 South Side of the River
The MD Connected was the second original ranch, also established in the late 1840s. Gillis MacDougal is the ramrod and shares the ranch with his two half-brothers, Ross and Nevin. Amelia married Ross in A Contract Bride's Triple Surprise, Bride Train 2.
The Double Diamond: Kenrick (Ace) Langford, Charles (Sin) Statham, and Henry Bennett are English aristocrats. Jessie Elliott married Ace after her brothers found her in bed with him, in Compromised Cowgirl, Bride Train 3.
Bachelor cousins Jed Adams, Riley Jansen, and Clint Fortune own the J Bar C (J–C)ranch. They run into Victoria Edison in 1 Bed, 2 Weddings, 3 Husbands, Bride Train 5.
Walt Chamberlain owns the Running W ranch but only purchased cattle in 1872. He's hired three men, originally from the area, to drive the Texas longhorns to Tanner's Ford. We learn about them in The Badger City Gang, Bride Train #7.
To the east of town, on the road to Bannack City, is a ranch owned by Mayor Orville Rivers.