More Highland Ménage research in Scotland
There are six more MacDougal brothers eager for their stories to be told in my Highland Ménage series. I've found an excellent tour which will bring me where I need to go, so I will be taking another research trip to the Highlands and islands.
There will be one big difference in the last three sets of brothers. In the first five sets (10 150-page books), a set of brothers and a heroine had a Happily Ever After ending; then something horrid happened and in the second book they got their Happily Ever After Forever.
My writing style is longer books, and so the last three sets of brothers will have one book apiece, a longer one (~300 pages).
The Highland book in progress, featuring Torquil and Ewan, happens on Clan MacDougal land, which I researched in September 2014.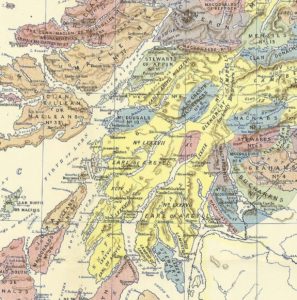 The next book has Artair and Zander, the youngest MacDougal brothers, heading east across lands belonging to the Earl of Argyle (a dastardly Campbell) on the way to visit Tearlach and Rory (and wife Isabel Graham) at Calltuin Castle on the far side of Loch Lomond (see King's Pawn, Highland Ménage 7 and King's Knight, Highland Ménage 8).
They plan to stay overnight with the MacNaughtons at Dunderave Castle on Upper Loch Fyne before moving on. All that's left of the once-vast MacDougal land is that blue blob, surrounded by Campbell yellow, east of the Isle of Mull. MacNaugton land has been cut away until all they have is that blob of pinky-brown at the north-east tip of Loch Fyne.
Laird MacNaughton is near death, all his sons slain in battles with the Campbells. If his remaining child, a daughter, does not find a husband quickly she will be forced to marry a Campbell. That will annihilate their clan.  I believe the lady ends up locking the lads in the dungeon to ensure their cooperation. I haven't been in this area yet so after my tour is over I will be spending three days hiking and touring.
In the last book Fin and Dougal sail with Laird Fraser as he visits many clans on orders of King James VI, on the mainland and various islands.
We will be visiting the Isle of Skye, home to the MacDonalds of Clan Donald North (Duntulm Castle in Trotternish, and Armadale Castle in Sleat), the Macleods of Lewis in Waternish), the Macleods of Harris (Dunvegan Castle), and the Mackinnons.
We will be going to the Isles of Lewis and Harris in the Outer Hebrides, and the Orkneys , north of John o'Groats.
The tour ends in Edinburgh, arriving in time to attend the season's last Edinburgh Tattoo.
The tour includes breakfasts and a number of dinners. To save time, we've already picked what we'll be eating at some of our lunches and dinners. I splurged for our dinner at the Hotel Hebrides on the Isle of Lewis because it might be something the locals would have eaten a few centuries ago. By that I mean Pan Seared Isle of Lewis Hand Dived Scallops.
One of the included dinners, at the absolutely wonderful Glenspean Lodge near Fort William, will be Inverlochy smoked salmon; Steak and ale pie; Bramley apple pie with custard.  That area is Clan Cameron land: Angus and Gillis brought Fiona there in Captive Bride, Highland Ménage 7.
That counts as research, right?