Cowboy Sandwich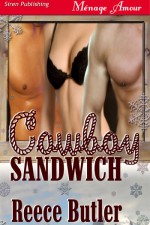 Determined to take charge of her life, Candy abandons her inhibitions and heads west, where she meets Adam and Bryan, co-owners of a remote Montana cattle ranch. After three cold months in the saddle, Adam and Bryan are more than willing to help Candy on her first step toward freedom. In a glorious night of wild sex, the men prove what four hands, two mouths and hard-driving muscles can do in a few determined hours.
But meeting her deep, dark fantasies requires more time. Promising games of Virgin and Pirates, Harem Girl and Sheiks, Adam and invite Candy back to the Double R. With hard-working days and deliciously wicked nights, the last few weeks of the winter pass quickly.
Ranch life, and her men, are everything Candy wants. But she can't live a fantasy forever, hoping they'll ask her to stay. Unless they return her love, she must claim her independence and escape before her heart breaks.
Cowboy Sandwich is an Erotic Cowboy Ménage a Trois Romance, M/F/M. There is no sexual relationship or touching for titillation between or among the men.
This book is also available at
Amazon Kindle     Kobo    Barnes & Noble Nook