Barefoot Bride for Three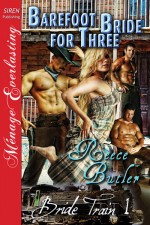 Barefoot Bride For Three:  Bride Train #1: May, 1870
When 21-year-old Elizabeth James refuses to marry her father's crony, she is beaten and locked away until she realizes her mistake. Instead, she escapes and hides in the home of fellow bluestocking Florence Peabody. With nothing but the clothes on her back, she signs up to ride the Bride Train to Montana Territory. She arrives in Tanner's Ford and is given a week to settle on a husband.
Unfortunately the town bully, Big Joe Sheldrake, takes one look and marks her as his own. When she refuses his advances with the tip of her boot, Sheriff Frank Chambers locks her up for her own protection, leaving her barefoot so she won't hit anyone else.
With her week ending, Mayor Orville Rivers insists she choose a husband by midnight or marry a name picked from a hat on the bar. Big Joe makes it clear that no other name but his is to go in that hat.
Trace Elliott is the oldest of one of the two founding families in the valley that is now Tanner's Ford. He was orphaned at 16, along with his five brothers and sister. The youngest three were taken in by their neighbors, Finan and Sunbird MacDougal. Finan got fed up with the miners and hauled the Elliotts, along with his own children, to Texas years earlier.
Now 25, Trace and his 23-year-old twin brothers, Simon and Jack, managed to survive and keep the Rocking E ranch going. They've always shared the work and what little food they had. They figure that a wife, as long as she didn't object too strenuously, should also be shared.
One of the first to settle in the area due to its beauty and resources, the Elliotts hate the way the miners are destroying the land. Whenever they get to town and there's a few of them at the bar, a fight breaks out, which Sheriff Chambers then has to break up.
The previous autumn Chambers ordered the Elliott men not to return to town unless at least one of them is married. He used to have the same issue with fights from the three MacDougal ranchers, but when Gillis married they all calmed down. He figured a good woman will calm the Elliott men down as well, or at least keep them from getting too ornery to fight.
Now 25, Trace has just spent a very long, cold winter on the Rocking E ranch with no one but Simon and Jack. He wants food, a hot bath, whiskey, and a woman.
A wife would be good but even if he found one, she wouldn't want a man who talked like a crow. His voice-box was destroyed as a teenager when he saved a woman from rape. The attackers didn't appreciate it, so they roped him around the neck and dragged him behind their horse for a while. The woman turned out to be Miss Lily, owner and operator of one of the most expensive Gentleman's Clubs west of the Missouri River.
Sheriff Chambers likes Miss James and enjoys playing checkers with her. He also lets Mrs. Sophie McLeod visit when she brings meals from Sophie's hotel dining room. But the clock is ticking toward a wedding tonight and neither Sophie nor the sheriff can change the young woman's fate.
It's dark by the time Trace rides into town. He's fed up with bad cooking, cold baths in the creek, and the sound of his brothers voices. A hot bath, good meal, feminine voices, and a whiskey or two will make the return of spring even better.
Sheriff Chambers meets Trace at the edge of town with a loaded pistol. Since Trace hasn't married, Chambers gives him a choice: marry the feisty woman locked in jail or leave town. Chambers doesn't care how many sleeps with her, as long as she agrees and it settles the Elliott boys down.
Trace takes one look at the tall blonde fighting Charlie Newton, a bully the town council insists be hired as the sheriff's deputy, and decides he'll marry her. He's not sure what he can say to convince the smart-talking Eastern virgin to be his wife, but he likes her nerve. He agrees with the sheriff that she's enough of a hellcat it'll take all three of them to tame her.
This book is also available at