About Reece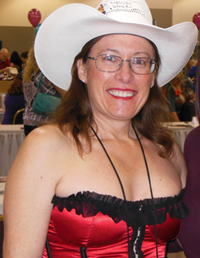 I love writing erotic menage romance and meeting my fans. This photo was taken at the Romantic Times Booklovers' Convention. In addition to hearing feedback from my loyal readers, I chatted with cover models, attended workshops, and got enthused about writing even more.
All my life I was happy when my head was stuck in a great book. Only after my children were older did I discover romance. I love to create characters with interesting reasons why they have the flaws that their partner(s) will help heal. They end up Happily Ever After, but not without a few bumps along the way.
I write, read, and research full time. There's lots of hot, hunky men: contemporary cowboys with the Climax, Montana series and the new Highland Menage historical (late 16th century) series featuring plenty of MacDougal brothers long before they left Scotland.
I use all my senses when I'm researching and then add my very active imagination to figure out what could happen to a couple of hunky men and a feisty heroine.
My research has brought me to cowboy country to investigate the history of the west, and Montana in particular. It's now allowed me to enjoy Highland Scotland and explore castles, land, and more. I love meeting wonderful people as well as having memorable experiences I would never have expected.
How To Contact Reece