A Perfect Wife: research photos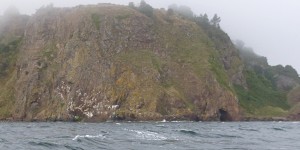 This photo, courtesy of Craig Wallace, shows "Doocot Cave", around the headland from Cromarty. The cave is near the left, about half-way up. I won't ruin the story, but you will learn about it while enjoying Kiera's attempts to become the perfect wife for Malcolm and Duff MacKenzie.
Hugh Miller, author of My Schools and Schoolmasters or The Story of my Education, pubilshed in 1889, was from Cromarty. He wrote about the caves (page 62) "The Cromarty Sutors have their two lines of caves — an ancient line hollowed by the waves many centuries ago, when the sea stood, in relation to the land, from fifteen to thirty feet higher along our shores than it does now."
The "Sutors" he refers to are the heights of land on either side of the narrow straight dividing the MacKenzie side from that claimed by (the real, and very nasty) Laird Alexander Ross, 9th of Balnagowan.
Cromarty Castle (which is "Kinrowan" in this series) did exist, though it was demolished in 1772. It was exactly as described in A Perfect Wife, as I used the floor plans, which I found on the site listed below.

From RCAHMS site: "The sheriffdom of Cromarty first appears on record in the 13th century; in 1470 the Urquharts, hereditary sheriffs since the mid-14th century, were granted royal permission to build a tower or fortalice on the motte of Cromarty and to equip it with suitable defences."
"Judging from the evidence of later architectural drawings and descriptions, the stone castle that was erected in the later 15th century appears to have been a very substantial L-plan tower, bigger and more sophisticated than any surviving late medieval structure in this area."
"An extensive range of domestic buildings was added in 1632 by the father of the great Sir Thomas Urquhart, but the proposals to rehabilitate the castle as a barracks after the 1745 Rebellion came to nothing and the castle was demolished in 1772 during the construction of Cromarty House." (H Miller 1887; W Macfarlane 1900; W M Mackenzie 1922; 1948; RCAHMS 1979; G Stell 1986.)

If you wish more information on Cromarty Castle, this article is a trove of information (remove spaces). < http:// archaeologydataservice.ac.uk / archiveDS/ archiveDownload?t=arch-352-1/dissemination/ pdf/ vol_082/82_060_068. pdf >